Horwich Cohen Coghlan Solicitors have over 25 years experience in dealing with injury compensation claims.
---
In that time our service has moved with the times and we now set the standard for the legal sector with cutting edge case management software. This use of evolving technology compliments our traditional commitment to provide high quality legal services to every one of our clients, delivered by experienced legal advisers.
Our range of personal injury services include:
Road Traffic Collisions (RTC)
We win damages for many thousands of injured RTC claimants each year, and our expert knowledge and service will ensure that your claim has the maximum prospects for a successful outcome.
We deal with every aspect of RTC claims, including claims for drivers, passengers, cyclists, motorcyclists and pedestrians. The RTC department is the largest department within Horwich Cohen Coghlan Solicitors and is carefully structured so that claims are always dealt with by a specialist handler. We have dedicated teams to deal with every type of claimant, from relatively low value claims valued at several hundred pounds up to catastrophic injury claims worth many millions.
Our teams structures have evolved over many years, and the carefully designed system allows our legal advisers to quickly and easily escalate any challenging or difficult issues up to a senior manager, Partner or Director for immediate guidance or a second opinion. Our legal advisers are all experienced and highly trained specialists working in a dynamic team environment which enables them to make good decisions quickly and with confidence, supported by a second senior opinion as and when one is required.
In addition to this we believe our case management software is the best on the market, and this allows our staff to deliver professional advice quickly, efficiently, and by whatever method the client prefers. We use simple principles, sending letters and documents by e-mail where possible, and using plain English to confirm things so that everybody understands the position. We also monitor key pieces of information through our software, which allows us to keep focused on reducing delays as well as making sure that the right result is achieved.
Horwich Cohen Coghlan Solicitors have a wealth of experience in dealing with clinical negligence matters. We understand that the doctors, dentists and Hospital clinicians don't always "get it right".
We are familiar with all types of medical and dental negligence, arising from private healthcare providers, your GP, your dentist or from the NHS.
We also understand that litigation can be daunting. In clinical negligence cases, litigation is often the last resort. Investigations into your claim begin by obtaining your medical records and instructing an expert qualified in the correct field of medicine to guide us as to whether you were provided with substandard care, and the extent to which this has caused you to suffer injury or loss.
We aim to assist you through the claims process as swiftly as possible, providing you with specialist advice tailored directly to your circumstances. You will receive regular updates in plain English, and you will have a direct line to contact your solicitor should you have any queries arising from the process.
Whichever field of medicine your injury relates to, our extensive network of medical experts ensures you receive the best medical guidance available. Once your position is clarified, we begin an ongoing process of negotiation with the proposed Defendant to reach an early conclusion to your claim, with the maximum amount of compensation possible.
At Horwich Cohen Coghlan Solicitors, we have vast experience of dealing with work compensation claims and each year recover hundreds of thousands of pounds in compensation for people that have gone to work to do their job and have been injured.
Many Claimants worry about bringing a claim against their employer but your employer has to have employer liability insurance by law and so it is the insurance company that will pay any compensation if you win.
We have years of experience in this area and our knowledgeable lawyers will guide you through the process step by step to ensure that claims are dealt with swiftly and with maximum compensation. We conduct all types of workplace compensation claims, from injuries arising as the result of an unsafe system of work or an unsafe workplace, to claims involving defective work equipment, lack of training and risk assessments, manual handling or even incompetent colleagues. Our lawyers technical expertise means that claims are dealt with efficiently and confidently.
The dedicated Employer Liability team are always on hand to talk to and advise which is essential in building relationships with clients. The client care delivered by our lawyers is second to none. Our team have the ability to explain matters in plain English to ensure that clients are fully appraised of the position at all times. Our bespoke case management system assists the team in being pro-active and allows us to contact and advise clients by whichever method they prefer, whether by telephone, email or letter.
We have successfully claimed thousands in compensation for people injured due to an accident on public property. Our team has expert knowledge in these types of claims which range from trips, slips and falls due to dangerous premises.
We offer a comprehensive and friendly service from the outset of the claim through to the end result.
The claims are dealt with by dedicated members of the team who are able to guide you through the process of bringing an injury claim. Our team of highly trained specialists ensure claims are dealt with quickly using our dynamic case management system to deliver an efficient and professional service.
At Horwich Cohen Coghlan Solicitors, our legal advisers have dealt with hundreds of claims where injuries have been caused by sharp and broken objects, obstructions on the highways, or from objects falling from a height in a public area. Such accidents happen in shops, supermarkets, restaurants, schools, libraries, car parks and other places where members of the public visit. The team has excellent technical knowledge that means claims are handled efficiently and effectively with maximum compensation being achieved.
How will my personal injury claim be funded?
Funding Injury Compensation Cases
Frequently Asked Questions (FAQ)
Q1 - Will I have to contribute towards HCC's fees?
A - You won't have to pay anything up front whatever happens. If you already have full Legal Expenses insurance at the time of the accident, then subject to the reasons given in question 4 and 5 below, you won't have to pay legal costs whether you win or lose the case. If you are not covered by Legal Expenses insurance, then you would then need to make a contribution to our legal fees at the conclusion of the case. This contribution will be payable out of your compensation figure.
Q2 - How much will I have to contribute towards HCC's fees?
A - It depends on which claim process is suitable for your claim, but we will advise about this before you decide whether to formally instruct us. You do not have to pay anything up front, and any contribution to our fees will be either fixed or capped at an agreed '% of damages' level, and paid at the end.
In addition to this, if you have chosen to buy an After The Event (ATE) legal expenses insurance policy, then you will also pay that premium from your damages at the end of the case. You do not have to take out that insurance, but in certain circumstances your damages could be at risk if you do not have it.
Q3 - Why should I contribute to my own legal fees if my claim is successful?
A - Before 1st April 2013 claimants generally received all of their damages after the legal costs had been resolved, but the government changed the law and new rules were introduced in late 2012 and early 2013 that changed the funding position dramatically. The rules relating to RTA claims where the injury is valued at/below £5,000 were then changed again for collisions occurring on or after 31st May 2021. We will explain what (if any) your contribution towards our fees will be at the outset, before you formally confirm our instructions.
Q4 - Will I have anything else to pay if my personal injury claim succeeds? 
A - There are rare circumstances in which claimants have to pay something towards the other party's legal costs, even if compensation has been awarded. This could happen if your case is not a Small Claim and the other side makes a formal "Part 36 offer" which is then rejected by you, but which is subsequently shown to have been a reasonable offer. If this were to happen, then you may have to pay the other side's legal costs from the date shortly after the offer was made. Those costs are generally limited to the value of your compensation, so although your compensation may be used up towards these legal costs, you would never end up having to pay anything more. An exception to this would be if your claims was shown to be dishonest or fraudulent; in which case you could be ordered to pay further legal costs. However, legal costs ordered against our clients are rare, as we give our clients clear advice about when to accept and when to reject offers.
Q5 - Will I have to pay anything else if my claim does not succeed?
A - Not unless your claim was dismissed by the court (struck out) or shown to be dishonest or fraudulent. In these circumstances you could be ordered to pay all of the other side's legal costs, and your own legal fees.
News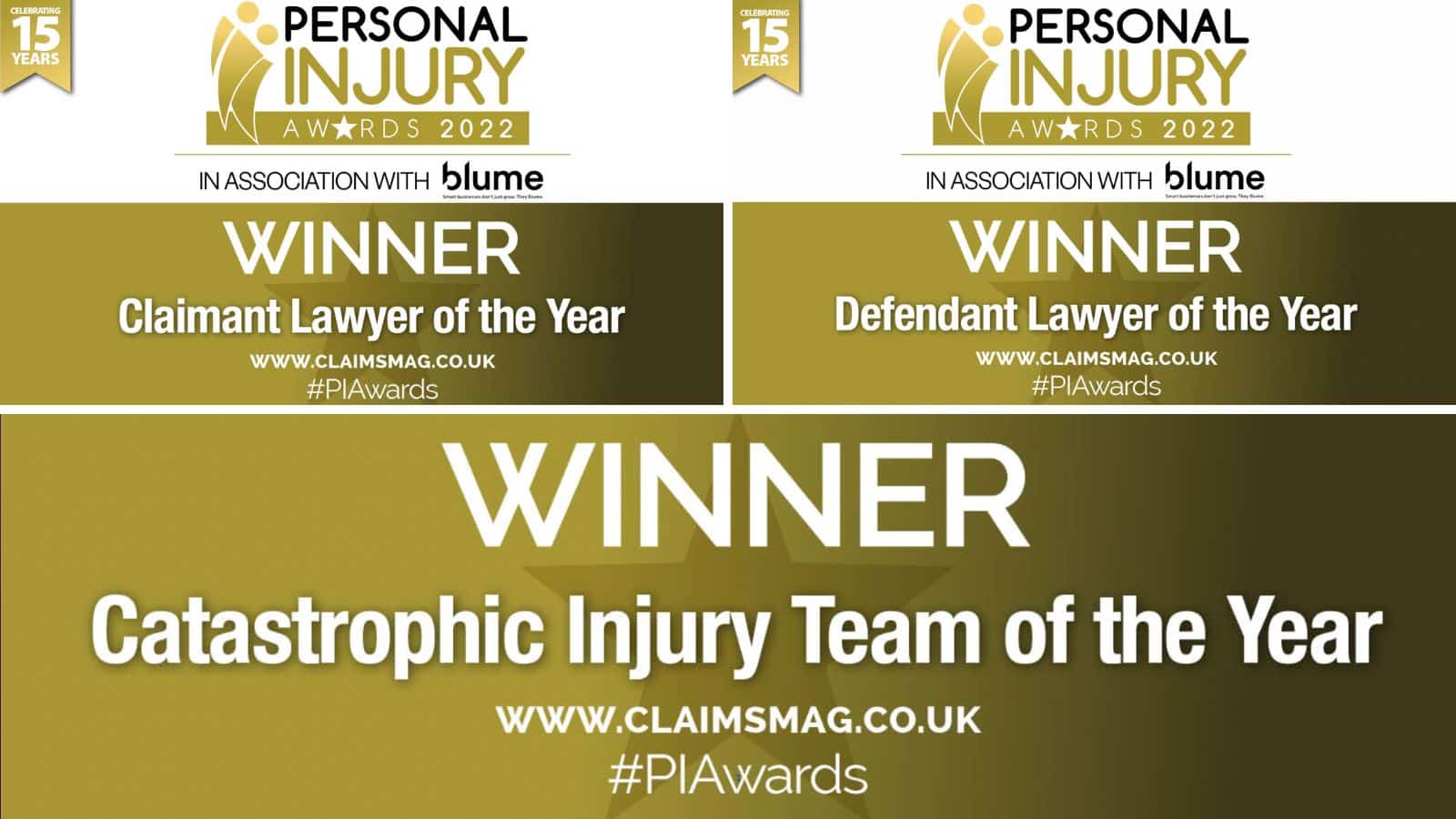 HCC Solicitors wins three awards at the Personal Injury Awards 2022
We are delighted to have been awarded three awards at the prestigious Personal Injury Awards 2022. The Personal Injury…