Location: Manchester
Litigation Executive – Uninsured Loss Recovery
1st Central Law
Castlefield House, Liverpool Road, Manchester, M3 4SB
We are looking to recruit a Litigation Executive to join our Uninsured Loss Recovery team. We are looking for a hardworking individual to deal with a caseload of subrogated recovery matters, including recovery of uninsured losses for clients arising from Road Traffic Accidents.
This role will suit candidates who are looking to extend their legal knowledge whilst taking the first steps into litigation.
Key Responsibilities and Duties:
  Creatively, innovatively and effectively manage a caseload.
  Taking ownership of your own significant caseload, from start to finish.
  Advising clients in compliance with the SRA Code of Conduct.
  Dealing with incoming and outgoing communications with clients, debtors and third parties,via telephone, email and post.
  Considering Special Damage documentation.
  Dealing and assessing Quantum with multiples parties.
  Dealing and assessing disputes in relation to liability.
  Utilising negotiation and communication skills to proactively settle/assist in the settlementof cases to the satisfaction of the client whilst further developing technical legal knowledge.
  Drafting Court Documents.
  Litigating matters though the County Court claim process to bring settlement.
Person Specification
Key: (A = application) (I = interview) (P = presentation) (T = test)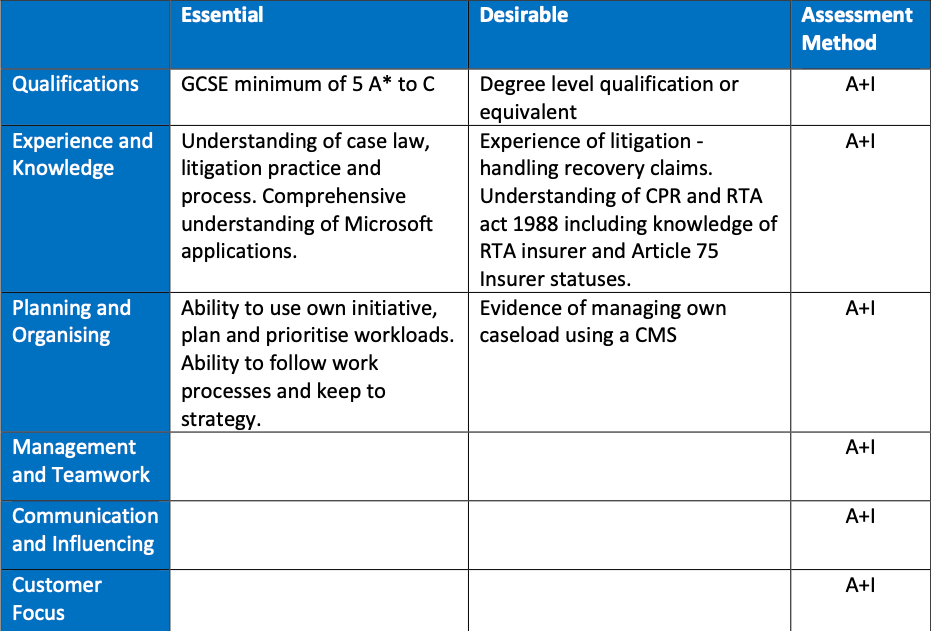   25 days + 8 days bank holiday
  Employee Assistance programme access
  Summer and Christmas party
  Employee events throughout the year
  Training opportunities
  Death in service*
  Cycle to work scheme*
  Referral schemes for bringing both new claims and team members
  Paid Birthday day off
  Travel season ticket loans*
 Charitable day (1 days paid leave to support your favourite charity or community group.) (*Subject to qualifying periods)