Horwich Cohen Coghlan (HCC) Solicitors is an award-winning serious injury law firm with offices in Manchester, Birmingham and London.
---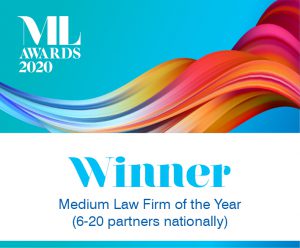 Injury cases are handled by specialist teams across our Personal Injury department, and we use the latest technology and claims management software to ensure that that claims are progressed quickly without any compromise on service levels. We are proud of the vibrant and dynamic environment we have established, and our department is driven forward by Directors, Partners and staff committed to delivering outstanding legal services to injured clients.
Very serious injury cases cases are dealt with in our Major Trauma and Serious Injury Team and we look to start working on a claim at the earliest possible stage – often whilst the client is still in hospital. This allows us to take proactive steps with a view to planning for maximum delivery of each clients' particular rehabilitation and treatment pathway. In this specialist department we provide a bespoke personal service, and as every case is different we will spend as much time as is necessary with clients and their families on a "one to one" basis to ensure we understand the individual needs and priorities of each client. Our Major Trauma lawyers provide a full service offering to seriously injured patients, so that all issues arising as a result of the injury can be addressed as and when they arise. Whilst our focus in the early stage centres is on treatment and rehabilitation, we will also use our experience to ensure that full medical evidence from leading experts is gathered as the recovery progresses so that we can secure the best possible financial settlement to provide for the future needs of each client.
We understand that great service requires cutting edge IT and technology, but we also know that our people are the most important asset we have. Our exceptionally low staff turnover reflects the positive attitude and motivation across our departments, and the pride that the Horwich Cohen Coghlan team have in the work we do.
With more than 200 staff in our Manchester, Birmingham and London offices, we are able to deliver outstanding legal services to clients nationwide.
News
SIA selects HCC Solicitors for South-East of England
We are delighted to announce that we have been appointed as one of the Spinal Injuries Association's (SIA) trusted…