HCC Solicitors wins 'Defendant Team of the Year 2020'
10th Nov 2020
The defendant team at HCC Solicitors was delighted be confirmed as 'Defendant Team of the Year' in the prestigious Personal Injury Awards 2020.
The judges, who included influential figures in the world of personal injury praised our impressive record of handling disputes, our international work and our commitment to career progression for specialist defendant lawyers.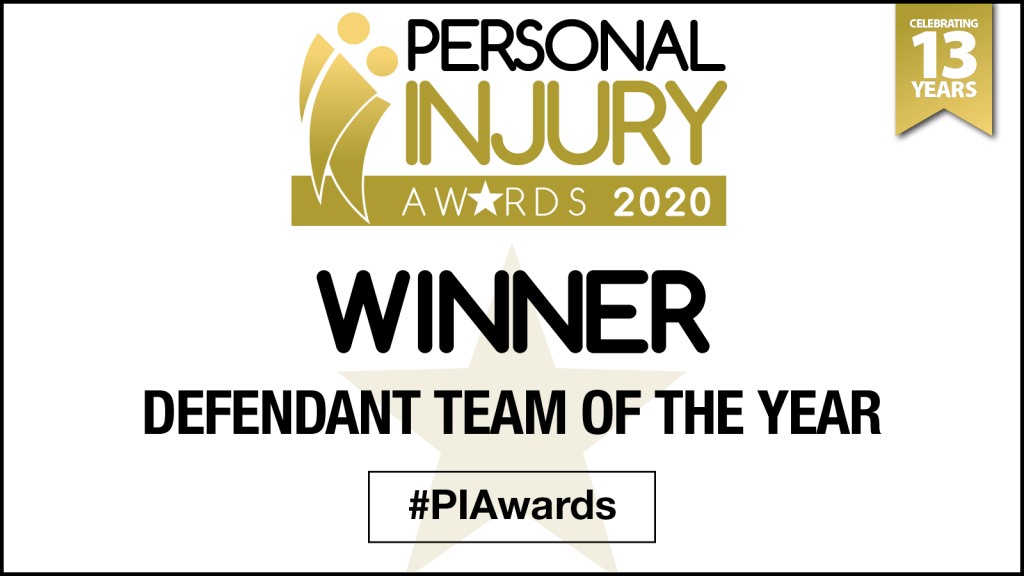 We'd like to thank all our clients who appoint us to handle their defendant work – as well as our entire team who have helped us achieve this accolade.
Mark Woodall, partner at HCC Solicitors, collected the award in a 'virtual ceremony' from the organisers. Under normal circumstances, the event would have taken place in Manchester – just over the road from our head office. This time, we were happy to accept the award digitally and you can watch the moment we won below.
Here's exactly what the judges said about our defendant team:
"The winner of the 'Defendant Team of the Year' has an impressive track record of handling disputes of an international, complex or unusual nature and isn't phased by a huge quantity of work. The winner is also a champion of diversity and committed to developing young specialist lawyers. The winner of 'Defendant Team of the Year' is HCC Solicitors."
WATCH US WIN 'DEFENDANT TEAM OF THE YEAR':
To speak to us about our defendant work please contact Mark Woodall.