HCC Solicitors: Law Firm of the Year 2020
20th Nov 2020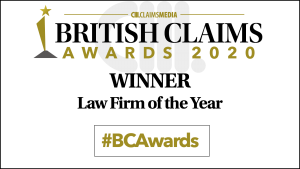 We were delighted to be crowned the winners of 'Law Firm of the Year 2020' at the prestigious British Claims Awards last night (19 November 2020).
We are particularly pleased about the fact that the independent judging panel cited our commitment to inclusion and diversity – alongside our commercial achievements and results for clients.
Hal Cruttenden, who hosted the British Claims Awards, said:
"Law firms are crucial to the insurance claims service and it's a pleasure to recognise the dedication of the finalists for their achievements. The winner of Law Firm of the Year demonstrated significant commercial achievements and taking on important work for clients, but it was the winner's other achievements such as its diversity and inclusion initiatives that really stood out. The winner of Law Firm of the Year is: Horwich Cohen Coghlan."
Julia Graham, deputy chief executive officer and technical director at Airmic, and chair of the independent judging panel, said:
"These awards are about organisations and people who 'get it right' and going that extra mile to embrace new technology, manage the changing demands of the industry, and deliver great customer-centric claims solutions and service."
We would like to thank all our clients and staff who have made this achievement possible. We are what we are because of you! THANK YOU. 
You can watch us win the award here: